Final exam English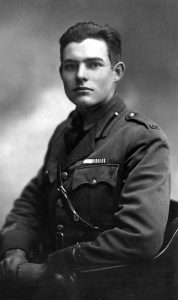 My English teacher in high school would have been proud of me. At least, with the knowledge of now. Many schoolchildren at our school had English in his bibliography: Ernest Hemingway. And my teacher did not stop under chairs or couches that he was a great admirer of Hemingway. That was probably the reason why so many students had chosen a book by this writer. It was poured into the spoon, or else it was just an opportunistic choice to come to a good grade.
Hemingway's novel "A Farewell to Arms" starts just before the twelfth battle of the Isonzo erupts. In the novel Hemingway's own experiences have been incorporated. The young Hemingway was itself, even briefly, active on that part of the front.
In April 1917, the United States joined the Allies to take part in the fight against Germany and Austria-Hungary. The 18-year-old Hemingway volunteered to join the US Army, but he failed to be accepted. His left eye was found to be bad and he was rejected for the army.
Hemingway got a second chance through the Red Cross. The Red Cross recruited American volunteers who wanted to serve as an ambulance driver at the Italian Front. He seized his chance immediately and via Paris he ended up in Milan.
On the day of arrival in Milan he immediately comes into contact with the horrors of the war. An ammunition depot has exploded and Hemingway is instructed to take the mutilated bodies and body parts to a mortuary. He is sent to the front two days later.
A few weeks later, it is July 1918, Hemingway is hit by a grenade while he is talking to Italian soldiers. Although seriously wounded, he helps another wounded soldier to come to a First Aid station. This was hindered by a machine gun that took them under fire along the way. He would later incorporate these experiences in his novel "A Farewell to Arms".
For this act of self-sacrifice he later received the Italian Silver Medal for Military Prowess. According to a witness, Hemingway has been hit by some 200 shrapnel and it is feared that his right leg must be deposited. But luckily during his recovery, which took several months, it does not have to come this far. During his recovery period, Hemingway is admitted to a hospital in Milan, where he falls in love with Agnes Kurowsky, an American nurse. She will also play a role in the novel "A Farewell to Arms".
The novel "A Farewell to Arms" is based in part on Hemingway's experience at the Italian Front, although the story takes place before Hemingway himself lands there. The protagonist, Lieutenant Frederic Henry, indicates quite quickly that he and his fellow ambulance drivers are moving into a house in Gorizia. Although no time is given in the novel, we know that Gorizia has been in Italian hands since August 1916.
From Gorizia, Henry observes the preparations the Italian army is taking to deploy new offensives.
In Gorizia, Henry meets the English nurse Catherine Barkley (Agnes Kurowsky), with whom he starts a romance.
The Austrians, however, take the initiative in the 12th Isonzoslag and there is great panic in the Italian army. It hits the flight and Lieutenant Henry is dragged into the retreat. There he sees several horrors that soldiers do to each other.
Eventually he finds Catherine back and decides to flee the war by escaping to Switzerland.
My English teacher in high school would have been proud of me. If I could also tell in the oral exam that I visited the places from "A Farewell to Arms" and could indicate the distinction between fiction and reality.
At least, with the knowledge of now.
Your Blog Reporter