Prices & Dates (8 days)
Isonzo Battlefield Travel composed a 5 day main program over a period off 8 days, which can be adepted- or expanded in consultation. Underneath you see a map off the area where the 12 Isonzo Battles are fought. All locations, including your residence, are situated in- or around this area.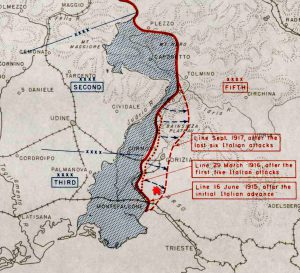 We also offer you, if desired, information for visiting nearby sites around Nova Gorica and on the Karst Plateau.
The dates
The first upcoming tour will take place in (in case of COVID cancellation full refund):
Please contact us if you are interested.  Please send us an email about your desired week in this period and we will check the availability.
The price
The price for this tour is €1090,- per person, but when you make a reservation before the 1st of September 2021 you will receive 10% discount, so €981,- per person. We have a numerous interesting discount offers based on i.a. the number off people in your group, so please contact us to see what is possible for you. Prices include stay, breakfast, costs for guides and access to the museums.
Additional information
Sights are visited with your own transport. In consultation with us you can rent transport.
Isonzo Battlefield Travel offers, where possible, local guides, so you will always be provided with the correct information.
Every day will be, if desired, closed with a short evaluation and a preview off the next day.
Prices include stay, breakfast, costs for guides and access to the museums.
Prices do not include transport to the sights, lunches, diners and tips for guides.