Third Battle of the Isonzo (18 October – 3 November 1915)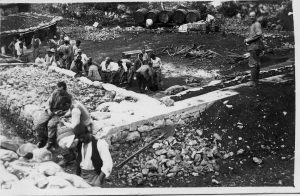 After roughly two and a half months of reprieve to recuperate from the casualties incurred from frontal assaults from the First and Second Battle of the Isonzo, Luigi Cadorna, Italian commander-in-chief, understood that artillery played a fundamental role on the front and brought the total number to 1,200 pieces.
The main objectives were to take the Austro-Hungarian bridgeheads at Bovec (Plezzo in Italian) and Tolmin, if possible the town of Gorizia. Cadorna's tactic, of deploying his forces evenly along the entire Soča (Isonzo), proved indecisive. The Austro-Hungarians took advantage of the relatively small areas of attack to concentrate their firepower on those areas.
Battle
Thanks to extensive artillery barrages, the Italians were able to advance to Plave (Plava in Italian) near Kanal ob Soči, beneath the southern end of the Banjšice Plateau (Bainsizza), and on Mount San Michele on the Kras plateau in an attempt to outflank those forces defending Gorizia. The plateau near San Michele was the scene of heavy attacks and counterattacks involving the Italian Third Army and Austro-Hungarian reinforcements from the Eastern and Balkan fronts under the command of Svetozar Boroević; both sides suffering heavy casualties.
Thanks to the low profile held by Boroević's forces, the Austrians were able to hold their positions with heavy casualties, inferior however to those of the Italians. This battle showed Boroević's tactical brilliance despite the limited scope of the front.
The lull in action lasted barely two weeks after which the Italian offensive started anew.
Source: https://en.wikipedia.org/wiki/Third_Battle_of_the_Isonzo